We appreciate you referring your friends and family to us, and want you to be rewarded for those referrals.
You have a unique referral code, located in your Aura profile, that you can copy and text to your friends who haven't met us yet.  They will get a 1st time guest gift of $20 to use on their first visit, and once they check out you'll get the same $20 gift in your wallet that you can use on an upcoming visit for product purchases or services.
Here's how it works:
Login to your Aura account. If you haven't upgraded to our latest software, you can do that here, and tap Set Password.  Be sure to save it to your home screen for quick and easy access going forward.
Go to Wallet.
Then tap on Referrals. You'll see a screen that looks like this: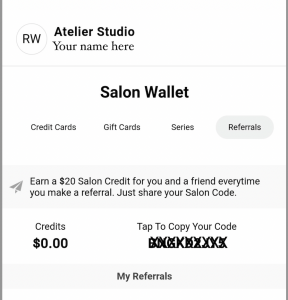 Click to copy the code, and text it to your friends and family who you know would love an Atelier visit. You can even post it to your social media…add it to a post-Atelier visit selfie story to give it even more impact!
 Be sure to let your friends know to create their own profile in the Aura website and use the referral code at checkout from the app. They'll get their $20 off and after their checkout is complete, we'll automatically drop $20 in your Aura wallet account to use the next time we see you.
You can view all your referral rewards from your account by clicking on your Wallet and then Referrals.
It's an awesome Win/Win!