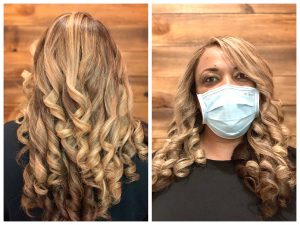 Have a special occasion to attend the evening of your next hair appointment?  Need to keep your curls intact for hours AFTER your appointment? Perhaps you can't get an appointment on the same day and your special occasion isn't until the following day.  Don't stress, there are solutions!
If you've raised your hand to any of these scenarios then here are 3 tips for you to consider.
Tip #1
Slow Your Roll: Once your Atelier artist has completed your look and added that very last curl, leave your hair as is.  Instead of combing through your curls, lightly spray with Aveda's Air control light-hold hairspray for a soft, flexible hold that lasts throughout the day.  Just before your special event, use a wide tooth comb to glide through your twirls to give your hair a piecey texture.  Brush through with a Denman or Mason Pearson-type brush for a Hollywood wave look.
*Bonus tip*
If you feel it's still early and the party isn't starting for hours, opt for tighter curls for more staying power, and reach for Aveda's Control Force firm hold hairspray for added curl longevity.
Also, if showering is part of the prep, consider wearing a plastic cap and bonnet over your hair to protect the style until you are fully dressed and ready to paint the town.
Tip #2
Plan Ahead:  There are always so many things to get done and such little time to do it.  Consider filling the early parts of your day with things like errands and play dates, while making the last stop your hair appointment. That way you spend less time out and about where your hair is more affected by the elements, and your style will stay fresh.  If your event is in the morning or early part of the afternoon, flip that script and get your hair appointment scheduled early.
*Bonus Tip*
Book your appointments online or by text for the ultimate convenience.  The second the urge strikes or you've RSVP'd to a party, get that appointment booked, and plan your day around it.
Tip #3
Pineapples Anyone:  Not just a delicious snack, did you know this is also a great method to preserve a hairstyle?  "The Pineapple Method" is ideal for sleeping, or while participating in any activity that may cause the curl to relax and fall faster.  It allows you to sleep on the undersides and bottom nape of the hair without disrupting the curls, keeping them frizz free and tangle free.
How-to: With a large scrunchy or soft fabric hair tie (no rubber bands, please!) that won't pull on or pull out the hair, create a loose ponytail on the very top of your head.  Loosely swirl the hair around the band to create a bun to preserve the integrity of the curl.  Sweet Dreams!  When you awake and take your hair down, you'll be amazed at the volume you'll have, plus those curls will still be poppin'.
*Bonus tip*
Pick up a silk bonnet for night sleeping. These silk caps minimize friction caused by cotton pillowcases and protect your hairstyle. These are easy to find on Amazon, ranging from $10 and up.   Silk Bonnets on Amazon
Enjoy your beautiful hair!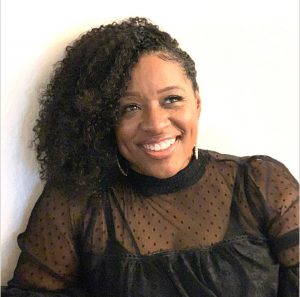 From Atelier Advanced Artist, Tiffany Pleasants
Great at thermal styling, hair weaves, relaxers.
She is confident with all hair types, from fine and straight to coarse and curly. From frizzy to smooth, from flat irons to curling wands, she knows how to use the right tool to achieve client happiness!
Tiffany is our resident expert in multi-cultural hair smoothing, molding, twist-outs, dreadlocking, and natural styling.
She joined Atelier 2013, and she is a Deva Inspired Stylist.