Holiday 2021 is exciting, since businesses were on mandatory shutdown last year, but this excitement can also mean increased road traffic, and parking can be a challenge.
Santana Row has lots of free parking, you just need to know where to find it.
Check out this parking map from the Santana Row website:  http://www.santanarow.com/map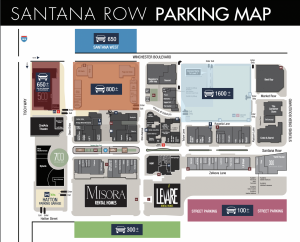 If your appointment is after 6pm or on the weekend, the Splunk building, across from us, has underground parking that's free, available, and plentiful.  And, the Hatton garage at the end of Olsen Dr. is also a good choice.  You'll get in a few more steps, and get to see some of Santana Row's beautiful holiday decorations on the short walk to Atelier.
Giving yourself a bit more time to get here and park is important at this time of the year.  Your stylist wants to start your appointment on time to give you the full experience.  We offer a soothing cup of Aveda's Comforting Tea (caffeine-free, sugar-free), Triple purified water, or enjoy a single-serve sparkling wine to get you into the holiday mood.
Drive safe, and we'll see you soon!