We are happy to introduce you to Margo Nunez, who is stepping into the shoes of Atelier's GM of 11 years, Rob Willis, as he moves out of the area to be near his family.
Margo joins our leadership team with years of experience in the beauty industry and was chosen from many candidates not only because of her competence and experience, but also because of her caring and kind heart–the perfect combination for a Salon General Manager.
We hope you have a chance to meet Margo at your next visit.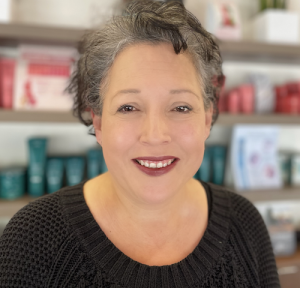 Rob Willis has made huge contributions to Atelier's growth and success since he joined our family in 2011, and he leaves an indelible mark on all of us.  He captured the hearts of our guests and our team and we will miss him dearly.  We have appreciated his leadership, his care, his wisdom, and his awesome laugh.  (Not to mention his Halloween costumes were legendary!)
We wish him a safe move and we send him off with a lot of love, and what promises to be an epic team potluck!
Thank you for everything, Rob, and for setting Margo up for success.
His last day is this Friday, May 20th, so if you want to give him your best wishes before then, stop by.
You can also email him until May 20th, at rob@ateliersalon.com.